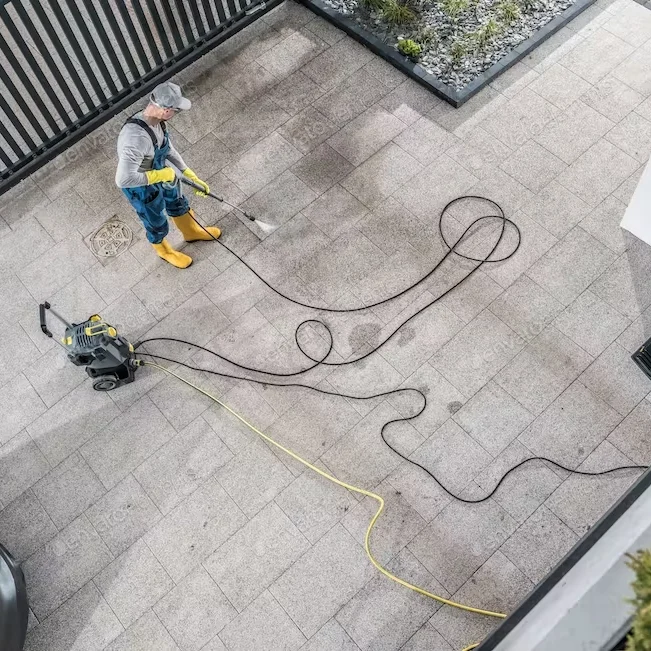 Superior Exterior Cleaning Services
Best Power Washing Services In Phoenix & Surrounding Areas
Cris's Cleaning Services offers professional power washing services to keep the exterior of your home looking great. If your driveway has stains and is reducing the curb appeal of your home, it is time to consider hiring someone to help with a driveway or residential power washing. If your paving looks grubby despite you regularly cleaning it with the garden hose, the answer is "Yes!" The professionals at Cris's Cleaning Services go over the methods and benefits of driveway power washing.
Reach out today for your free quote. 
Best Power Washing Services In The Phoenix Metro
Why Not Just Do It Yourself
Washing a driveway with a garden hose can only do so much. Yes, it will eliminate surface dirt and even shift some of the grime you tread in when walking to and from your car. However, a garden hose cannot shift the soil your car grinds into the drive every time it drives over.
As for oil stains, a high-pressure water hose drives them deeper into the concrete surface, leaving an ugly color. A gas pressure washer can be useful, but only when you understand how to use it effectively.
Even at standard pressure, the stream can lacerate flesh. Turn the knob a little too high and you could chip the concrete. Keeping the pressure low is the safest option, but it is about as effective as hosing the paving down.
Save yourself time and aggravation by calling Cris's Cleaning Services. Our affordable driveway power-washing services will make your paving look new in next to no time.
Benefits of Hiring a Professional Residential Power Washing Service
There are several benefits to hiring our professional team to pressure wash your driveway.
Saves You Time
Don't you have better things to do with your weekend? Why spend hours hosing down the driveway when our team can do the work in a fraction of the time and save you the effort?
Surface Looks Like New
Driveway power washing is so effective that it has a similar impact to repaving. Our team applies their extensive expertise and professional equipment to lift stains and rinse them away.
Experienced, Trained Professionals
We're licensed, insured, and experienced. Our team knows which techniques produce the best results on each surface. They'll select the right mixture of soft and hard driveway power washing to optimize your results without damaging the concrete.
Improves Curb Appeal
A dirty driveway is one of the first things people notice from the outside. Keeping your driveway clean automatically improves the look of your property.
Cost Effective
Before footing the bill to refinish or replace your paving, contact Cris's Cleaning Services. Our highly effective techniques are far more affordable and will fool most onlookers into believing you installed new pavers.
Convenience
We offer flexible scheduling for your convenience. You set the time and date, and we'll work around it—you do not even need to be home, as long as we can access your yard.
Maximize your convenience with one of our convenient set-and-forget maintenance plans.
Saves You Space
Buying a pressure washer seems like a good idea at the time. However, after the novelty wears off, it becomes one more item to clutter up your garage. Save yourself some space by hiring us. We bring all the necessary equipment and experience needed to guarantee a quality clean.
The Cris's Cleaning Services Difference
Every member of our team is a dedicated professional that strives for 100% satisfaction. Our reliable, friendly team is committed to delivering the highest quality work for transparent, affordable prices.
Every employee undergoes thorough vetting before joining our team because we only work with the best. We thoroughly train all new hires before letting them operate on a client's property and conduct regular training for all employees.
We keep our licenses, insurance, and certifications entirely up to date for your peace of mind and ours. We use the best quality, environmentally-friendly detergents that run off harmlessly into your garden. We do not use harsh chemicals that might damage your flowers or shrubs. These detergents lift grime and difficult-to-remove stains to the surface so we can rinse them away without harming the environment.
We keep our industrial-strength equipment in great shape. Our team members wield their power washers like fine instruments and delicately slice away the dirt without damaging the underlying surface.
Pressure washing is a delicate art, especially on a surface like a driveway. Whether you have a continuous asphalt surface, concrete pavers, or a stone finish, we will clean it perfectly, instantly improving the appearance of your property. You can trust us to do the job right the first time.
Contact Cris's Cleaning Services Today
Contact Cris's Cleaning Services at (602) 574-3916 or get a quote for your free estimate for driveway or residential power washing and see why you cannot afford to miss this deal! Check out our reviews here!