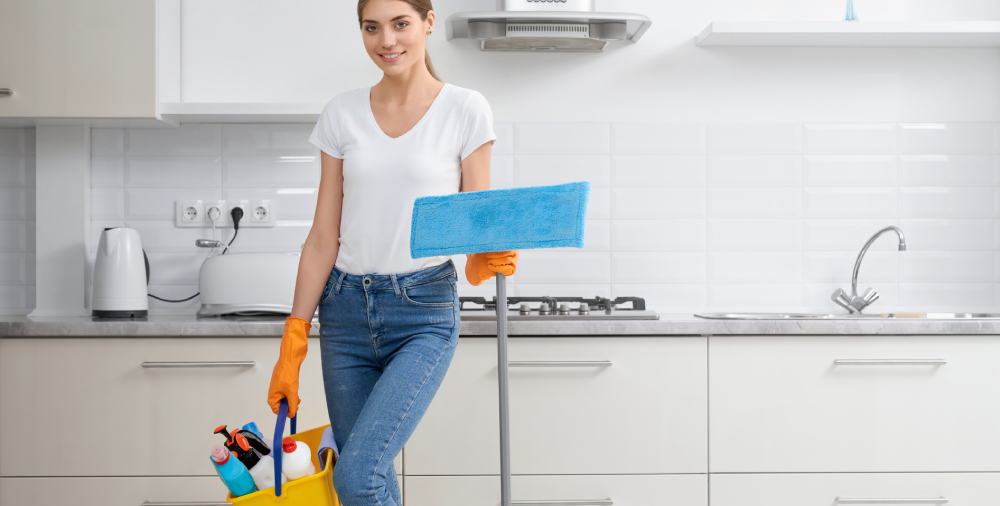 Everyone wants to live in a clean and healthy home. However, certain areas are naturally cleaner or dirtier than others within any home. While we typically assume our bathrooms to be one of the dirtiest places in our homes, we often forget about cleaning our kitchens. That's why we're discussing the benefits of kitchen cleaning and sanitizing.
Our kitchen is also a critical room in our house, and it is where we store, cook, and eat our food. It is a place where families come together, and new memories are made. So, in such an important place, you want to make sure you know why it's so important to clean and sanitize properly.
To understand more, let's look at some of the many benefits of kitchen cleaning and sanitizing.
Benefits of Kitchen Cleaning and Sanitizing
Entertaining Guests
While some homeowners enjoy keeping to themselves, others enjoy inviting their friends over and having guests from time to time. So, suppose you have guests over for dinner. You might get embarrassed if your kitchen is unsanitary or unclean, and they might feel uncomfortable eating there. So, entertaining guests is a benefit of a clean kitchen.
Lengthen The Lifespan of Your Appliances
Kitchens tend to have a large proportion of your home's appliances, including your dishwasher, toaster, refrigerator, coffee maker, oven, etc. When appliances like these are clean, they tend to last longer and work better, especially over the long run.
Mental Clarity
When scenes around us are serene and clean, we tend to have more precise ways of thinking. So, when it comes to your kitchen when you keep it clean, you are cleaning the way you perceive it too, which just means you live even happier and healthier.
Better Food Management
Let's face it. Food can get expensive. And letting it go to waste is a massive waste of money. That's especially true for some of those nicer cuts of meat. So, when your kitchen is clean, it gives you better options for managing your food, whether that's in terms of space or visual clarity.
Minimizes The Spread of Diseases
Lastly and most importantly it significantly reduces the likelihood that you or anyone in your home would get sick from a dirty kitchen. Believe it or not, kitchens tend to be one of the dirtiest areas of the house because of the bacteria that grow near food and clean the food and dispose of it. In fact, the kitchen is a hotbed for food-borne illness, which affects millions of people every year. Therefore, a clean and sanitary kitchen is essential for living a clean and healthy life.
Why Choose Cris's Cleaning
Do you want to keep your kitchen clean but don't have the time to do it yourself? Are you looking for a respectable cleaning company that will also care for your entire home?
Fortunately, Cris' Cleaning Services is here to help. Cris' Cleaning Services is a locally owned business in Surprise, AZ. They are committed to helping our local community with their home or business's cleanliness.
Helping you live a healthier life today by keeping your environment clean and sanitized where you need it the most. Cris' Cleaning Service is reputable, professional, and reliable.
They are licensed, insured, and confident that once you see what we can do for your home or business, you will keep calling them back time after time again!
Call Us Today
Are you looking for cleaning services for both residential and commercial cleaning? Or to help keep your home or office space clean? If so, Cris's cleaning services can do just that for you.
Call us today for a free quote at 602-574-3916 or email us at cris@crisscleaningservicesllc.com.