Ever wondered to yourself, "what are dust mites?" Did you know that four out of five U.S. homes have traceable levels of dust mite allergens in at least one bed? Yuck! No one likes having dust mites around your home, but at the rate of 80% of homes having them, this might seem an insurmountable problem. Though many homes have them, this problem is not an unsolvable one. In fact, we will discuss later in this blog how you can prevent and rid your home of dust mites for good. 
What Are Dust Mites?
Lung.org says dust mites are "microscopic, insect-like pests that feed on dead human skin cells." Their favorite places to live are warm, humid environments where they can have a nearly endless supply of dead skin cells. Some places where you might find them are in bedding, upholstered furniture, or curtains around your home. Contrary to popular opinion, dust mites cannot harm you by stinging, biting, or burrowing on the body.
As mentioned previously, dust mites are prevalent and naturally occur. You are not doing anything wrong if dust mites appear in your home. However, they are pretty gross and can trigger allergies for you or your family. That being said, we will discuss a bit how you can prevent them from being around your home.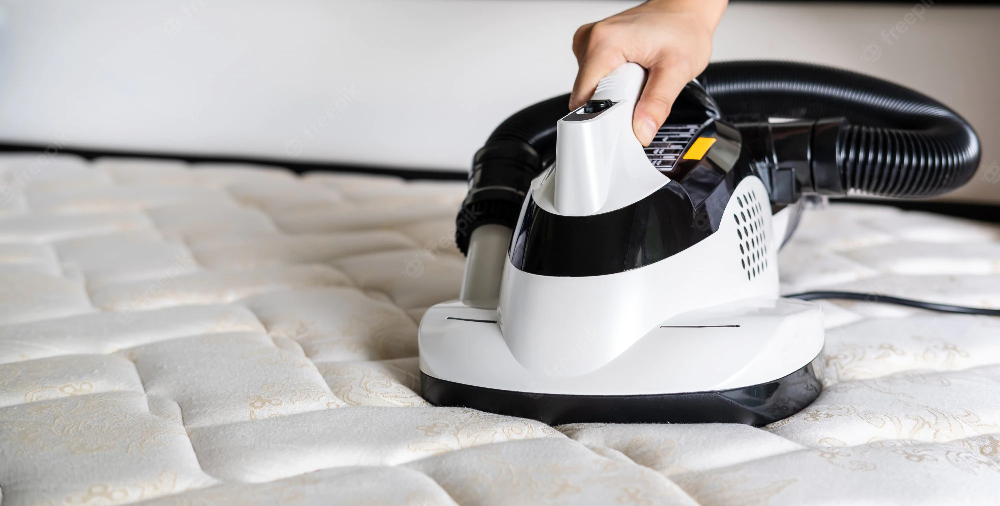 How Do You Keep Them Out?
Here are a few ways you can keep dust mites at bay in your home:
Wash Bedding Often
Be sure to wash bedding, including sheets, comforters, and pillowcases, on a regular basis to ensure mites cannot live in those places. Be sure to use water that is at least 130 degrees Fahrenheit to ensure any existing mites are wiped out.
Keep Humidity Low
As mentioned previously, humidity is one of the favorite climates of dust mites. If you can control the humidity of your home to keep it on the lower side, you will be less likely to accidentally house dust mites. Dehumidifiers are a great help for this.
Use Air Purifiers
Air purifiers can also help to ensure clean air, which is something dust mites hate! Alternatively, you can use a specialized filter in your AC unit to ensure clean air.
Vacuum Frequently
Vacuuming on a regular basis, perhaps several times a week will help ensure dust mites are swept away. Be sure to dust while you are cleaning your home. This will also help rid your home of mites.
Minimize Clutter
In general, your home is able to be cleaner when you keep fewer items around. Keeping minimal items, including furniture in each room will help ensure overall cleanliness, which helps with reducing the likelihood of dust mites.
Replace Carpets
Carpets are another place dust mites like to hang out and cause allergy problems. If possible, replace your carpets if they are old. The best flooring for allergies is hardwood, tile, or something similar that won't trap things like dust mites.
Cris's Cleaning Can Help
Keeping dust mites at bay is more than just a one-and-done job. It requires diligence and frequent action to be taken. If you are looking for support in ensuring dust mites are not around your home, then we may be able to help. Cris's Cleaning Services is a small, locally owned business out of Surprise, Arizona. We provide many types of premium cleaning services to our community, including maid service, move-in/out services, office cleaning, AirBnb cleaning, among other things. Our staff is professional, polite, and trustworthy, so you can feel good knowing your home will be safe and sound with our team.
Call Us Today
If you are ready to take the next step in keeping dust mites out of your home, then give us a call today at (602) 574-3916. We hope to have the opportunity to serve you soon!